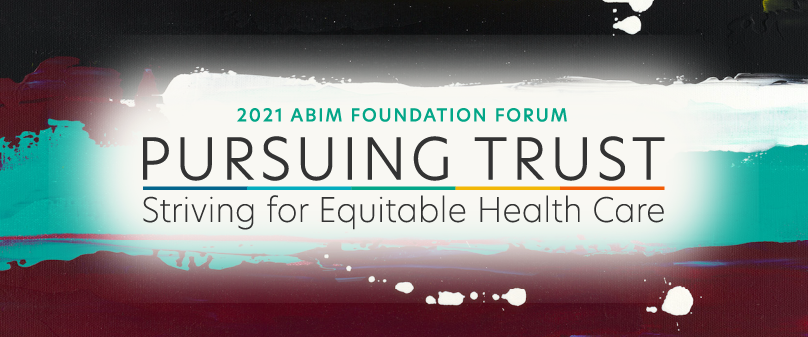 The ABIM Foundation hosted its annual Forum in August 2021, employing a virtual format for a second year. This year's meeting continued the Foundation's exploration of facets of trust in health care, focusing on how health care organizations can promote equity and become deserving of the trust of—and engage and partner with—marginalized communities.
Carladenise Armbrister Edwards, PhD, Executive Vice President and Chief Strategy Officer at Henry Ford Health System, delivered the 2021 Kimball Lecture by video before the meeting. In her lecture, Dr. Edwards used her family history—which included the kidnapping of her great-grandfather, a Baptist preacher, by the Ku Klux Klan in Florida—as a stark example of the history of racial injustice in America, and a basis to consider the racial disparities in our health care system.
A young physician and two medical students shared their experiences. Mercy Adetoye, MD, a Clinical Lecturer at Michigan Medicine, began with a story from her intern year, when she introduced herself to an older white male patient, who later called her a nurse during team rounds without any member of the team correcting his error. Maria Gomez-Roas, a medical student at Northwestern University Feinberg School of Medicine, spoke about her experiences as a translator for her mother at medical visits, following her family's move to the U.S. from Venezuela when she was 11. LaShyra (Lash) Nolen, a medical student at Harvard, shared her experience of founding We Got Us, a coalition of Black students and activists that has educated the Black community in the Boston area about COVID-19 vaccines.
The Forum concluded with a conversation between Robert Wachter, MD, Professor and Chairman of the Department of Medicine at the University of California, San Francisco and Kimberly Manning, MD, Professor of Medicine and Associate Vice Chair of DEI at Emory University. Dr. Wachter characterized the Forum participants as a "group of true believers" and suggested that we should understand sources of potential pushback.
---
Videos from the 2021 Forum