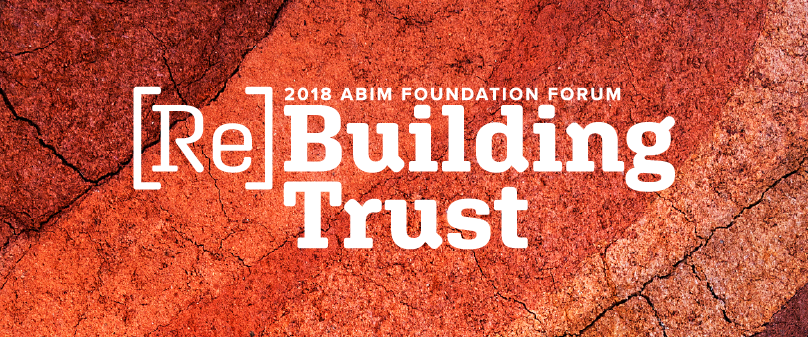 At this annual conference, a diverse group of more than 120 health care stakeholders met in large and small groups to discuss various facets of trust from a variety of perspectives, relationships, contexts and settings. This work culminated in a series of articles published in the Journal of the American Medical Association over the course of several months in 2019. (listed below)
A Framework for Increasing Trust Between Patients and the Organizations That Care for Them. Written by Thomas H. Lee, MD, MSc, Elizabeth A. McGlynn, PhD, and Dana Gelb Safran, ScD.
5 Ways to ↑ Trust: Patients & Health Systems
Health systems must encourage patient engagement and establish procedures to measure and nurture trust. Health care leaders recommend five approaches to organizations working to build trust:
Recommit to patients
Measure patient experience and engagement
Demand accountability; reward results
Build effective teams
Listen to patients
Building Trust Between Physicians, Hospitals, and Payers: A Renewed Opportunity for Transforming US Health Care. Written by Lewis G. Sandy, MD, Hoangmai H. Pham, MD, MPH, and Sharon Levine, MD.
3 Ways to ↑ Trust: Physicians, Hospitals & Payers
As health care moves toward paying for performance, health care stakeholders must align their understanding of "what success looks like."
Health care leaders identified three key considerations for building trust:
Recognize differing perspectives and redefine them together
Use transparency to measure and reward what matters
Assume best intentions
Why Physicians Should Trust in Patients. Written by Rachel Grob, PhD, Gwen Darien, BA, and David Meyers, MD.
4 Ways to ↑ Trust: Physicians & Patients
The quality and safety of care that physicians provide their patients, along with physicians' satisfaction with the practice of medicine, may improve when physicians trust their patients. Health care leaders say that mutual trust between doctors and patients must start with physicians, who can convey trust by:
Reading verbal and non-verbal communications
Understanding and addressing implicit bias
Inviting shared decision-making
Following cues from each patient about what kind of partnership to build
Physicians' Trust in One Another. Written by Richard Frankel, PhD, Virginia Tilden, PhD, and Anthony Suchman, MD, MA.
4 Ways to ↑ Trust: Physician to Physician
As many examine the erosion of trust in organizations and institutions, scholarly research suggests trust between physicians has room to improve. Health care leaders identified four principles for enhancing trust:
Value the physician-physician relationship as equally as the patient-physician relationship
Harness differences as a resource
Consciously build relationships
Make accountability a two-way street
Building Trust Between Government and Clinicians: Person to Person and Organization to Organization.
Written by Peter V. Lee, JD, Christine Sinsky, MD, and Donald Berwick, MD, MPH.
3 Benefits to ↑ing Trust: Government & Clinicians
Both policymakers and physicians have important perspectives, and with more trust, they could better advance their mutual goals. As a first step, if health care leaders spent more time understanding each other's universe:
Policymakers could see regulatory burdens first-hand
Physicians could better contribute to system-wide improvement
Both could reduce the regulatory burden together
From Distrust to Building Trust in Clinician-Organization Relationships. Written by Mary Jane Kornacki, MS, Dave A. Chokshi, MD, MSc, FACP; and Jack Silversin, DMD, DrPH.
3 Ways to ↑ Trust within Health Systems
Health system leaders need to proactively engage physicians and others on insight gained from patient care. Health care leaders identified three essential elements:
Listening and acting on clinician feedback
Being transparent and truthful
Conveying motive beyond self-interest
Why Bolstering Trust in Journalism Could Help Strengthen Trust in Medicine. Written by Vineet M. Arora, MD, MAPP; David Rousseau, MPH, and Gary Schwitzer.
3 Ways to ↑ Trust in Medical Journalism
The interconnected relationship between medicine, journalism and patients relies on a solid foundation of trust that must be nurtured.
Health care leaders identified three ways to repair trust in medicine and journalism:
Engage with high-quality local news outlets
Amplify examples of high-quality journalism
Correct inaccurate stories
Trust Between Teachers and Learners. Written by David P. Sklar, MD, and Graham T. McMahon, MD, MMSc.
3 Ways to ↑ Trust Between Teachers & Learners
Trust Between Health Care and Community Organizations. Written by Soma Stout, MD, MS; Lisa A. Simpson, MB, BCh, MPH, FFAP; and Prabhjot Singh, MD, PhD.
3 Ways to ↑ Trust Between Health Care & Community Organizations
Health care organizations that partner with communities must establish and sustain trust to achieve better outcomes. Health care leaders identified three pillars for trustworthy collaboration:
Understanding the organization's values, biases, interests and priorities
Sharing expectations and identifying commonalities
Developing a shared vision and plan with agreed outcomes
Building Trust in Health Systems to Eliminate Health Disparities. Written by Donald E. Wesson, MD, MBA; Catherine R. Lucey, MD, and Lisa A. Cooper, MD, MPH.
5 Strategies to ↑ Trust: Tackle Health Disparities
Health systems must eliminate health disparities to promote trust and collaboration with the communities they serve. Health care experts suggested five strategies for health systems to address disparities in order to build trusting relationship:
Develop health-focused community relationships
Establish institutional commitments to address health disparities
Collaborate with community partners as equals
Measure and share progress toward agreed goals
Ensure community interactions are respectful and monitored
Promoting Trust Between Patients and Physicians in the Era of Artificial Intelligence. Written by Shantanu Nundy, MD, MBA; Tara Montgomery, BA; Robert M. Wachter, MD.
3 Ways to ↑ Trust in the Era of AI: Patients & Physicians
Integrating artificial intelligence (AI) with health care creates opportunities for physicians to establish a deeper level of trust with patients. Health care leaders identified three ways in which AI can contribute to higher levels of patient-physician trust:
Expanding physician expertise
Creating more time for meaningful discussion and counsel
Providing insight into the evidence behind clinical decisions
Building Trust in Health Care—Why, Where, and How. Written by Dhruv Khullar, MD, MPP.
4 Ways to ↑ Trust in Health Care
Since January, the ABIM Foundation and the authors of 12 JAMA Viewpoint articles have examined trust in health care from diverse perspectives. Their writings conclude that high-quality, in-person interactions among patients, clinicians, health system leaders, payers, policymakers and many more can contribute to building trust. The authors identified four common principles to build trust:
Facilitate consistent relationship-building interactions
Listen with humility
Align incentives among stakeholders
Organize around the rule, not the exception to it
---
Videos from the 2018 Forum