Building trust at your organization takes time and resources – we can help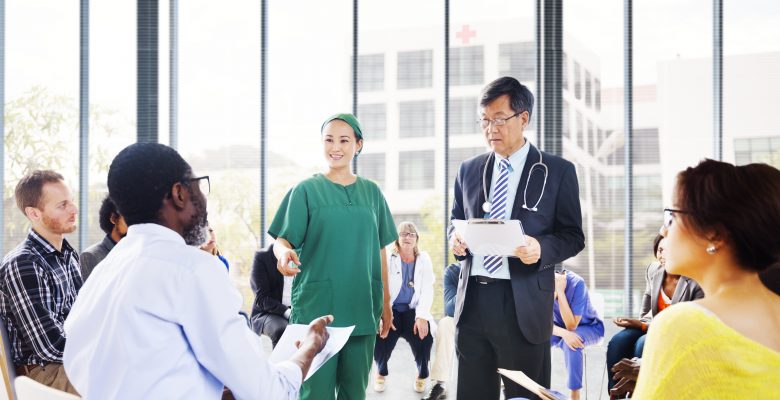 December 13, 2021
Every day health care organizations, hospitals, and health systems face dozens of competing priorities, labor and employment challenges, as well as the impacts that the COVID-19 pandemic has had on the health care sector. Building trust with employees, colleagues, and with the local community has never been more important than it is now.
Earlier this year the ABIM Foundation launched its Building Trust Initiative with the goal of elevating the importance of trust as an essential organizing principle to guide operations and improvements in health care. And since that launch, we've been creating resources to help organizations across various health care sectors start on their own journey of building trust with their staff, community and stakeholders.
We've developed three different ways that organizations can engage in, and promote, building trust:
Submit a trust practice. Do you have a story to share? We want to hear from you. Need help finding the stories? We can help. Through this effort we want to learn about, and highlight, ways that individuals, groups, organizations and institutions are nurturing trust.
Crowdsource trust-building approaches. Need help figuring out where to start building trust within your organization? Invite clinicians, leadership, staff, patient advisory committees, or a mix of participants to share ideas on how to build trust within your own organization. Gather in-person or virtually to discuss trust-building approaches and vote on your top choices. Then we encourage you to commit to taking action on identified suggestions.
Conduct a Building Trust Challenge. Are you already building trust but looking for a way to spread activities that build trust and involve your entire organization? Collect ideas that identify and promote exemplary practices that focus on improving relationships in health care. A Building Trust Challenge will help you learn about ways that individuals, groups and your institution as a whole are building trust.
Not sure where to start? Watch this video to learn more about why we've prioritized building trust, and visit this webpage for more information about these different avenues, including detailed guides and toolkits to help you get started. If you need additional guidance, please contact Kelly Rand (krand@abim.org).
We hope that you'll find these resources informative and helpful on your journey to build trust, and we sincerely hope that you'll join us on this important mission.
More In Letters from the Foundation
View All