Celebrating 10 years of Choosing Wisely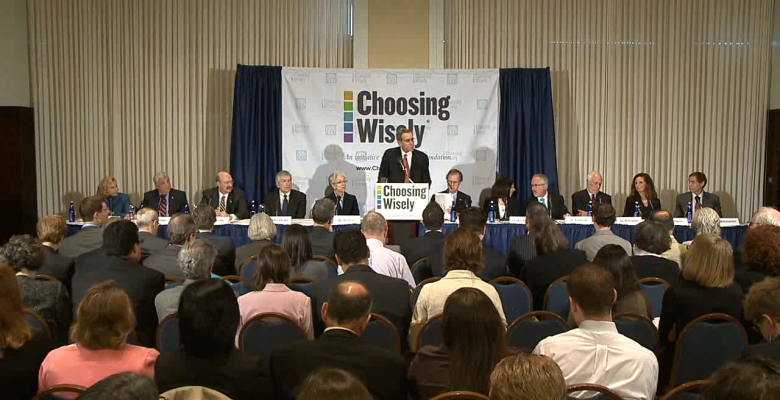 April 4, 2022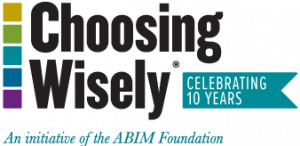 Ten years ago the ABIM Foundation announced a new effort with a lofty goal to improve health care: encourage clinicians to have meaningful conversations with their patients to help avoid unnecessary tests and procedures, many of which offer little benefit and, in some cases, do more harm than good.
The Choosing Wisely® campaign began as a partnership with nine physician specialty societies that collectively published 45 recommendations intended to discourage unnecessary care, and has since grown into an internationally-recognized campaign, inspiring similar efforts in more than 20 countries. The campaign now includes more than 80 clinical society partners, with organizations representing physicians, nurses, pharmacists, physical and occupational therapists, and other clinicians outside of allopathic medicine.
There are now more than 600 recommendations catalogued on the Choosing Wisely website, each developed by the specialty societies using clinical guidelines and their own established review process.
Following publication, we provided information to clinicians and patients about the recommendations, as well as guidance on how to have conversations. We've received positive feedback from both sides, and awareness of the campaign grew steadily year by year.
Through the campaign, we also learned about what works in implementing the recommendations. Through a grant from the Robert Wood Johnson Foundation, we worked directly with 14 health systems, each of which implemented at least three recommendations. All 14 worked to reduce the number of prescriptions of antibiotics for adults with respiratory infections and all 14 achieved reductions, with 12 lowering their utilization by more than 20%.
More recently, a 2021 study of 130 articles on Choosing Wisely shows the effectiveness of implementing recommendations through multi-component interventions – for example, feedback, order sets, alerts, clinical champions and clinical pathways. But there is still more to do. Trust between patients and clinicians is a critical component to enable these important conversations about tests and treatments.
That's why we launched the Building Trust initiative to address the distrust (particularly among populations who have been historically marginalized) facing our health care system. Achieving the goals of Choosing Wisely will require health care leaders to hone in on building trust at their organizations, starting with making trust a core organizational strategy, sewing it in to the fabric of its operations.
Looking past its challenges, we're gratified by the momentum that Choosing Wisely has created and we're looking forward to seeing what's still to come.
More In Letters from the Foundation
View All